Today, Monday September 5th is the first day of my new career as a writer, accompanied at my desk by Monty who is happy to be woken up at 4.30 AM but not too keen (yet) on settling down in his new surroundings until breakfast time! It is still cool here in Tasmania and my task tomorrow is to bring a heater which might also cheer up Monty.
Until the end of November I will be working on the children's book "Toad in a Hole". Today was spent developing the home planets of the main characters and considering illustrations. Situated in the Tadpole galaxy the planets are known as the planet Cloud and the planet of the Long Dry.
Tuesday September 6th: and the gang of three is complete as I am joined by my muse, Sadie. I suspect she may not be so keen every morning.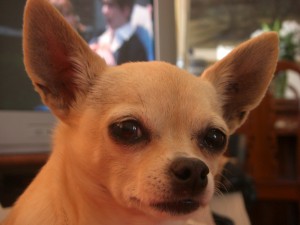 Thursday September 8th: A day for further scoping out the plotline of Toad in a Hole and how to get Prince Zavon and Princess Agnessa from their blue sun's solar system to earth's solar system. Thank goodness for comets!
Friday September 9th: I asked myself today whether it is easier to concentrate on a wet and windy "Winnie the Pooh Blustery Day", which it is, or on a fine sunny one. The answer for me is the fine and sunny one. Particularly as going down to the cottage and my office on a cold, dark wet morning isn't my idea of fun!
Sunday 911: I hope the next decade may be less turbulent than the last in terms of man's inhumanity to other men, women and children but I am not optimistic that will be the case. For me, living in Texas at the time, 9112001 demonstrated yet again man's infinite ability to close a stable door after the horse has well and truly bolted and is already in the next county.
Monday September 12th: This morning was spent developing the story of the feast on both the bright and dark side of the White moon whilst in the real world coordinating three sets of 'tradies' working on our renovations.
Tuesday September 13th: Hmmm, for the third time President Obama intends to visit Australia. I wonder if he'll make it third time lucky. It certainly gives me another idea for 'Toad in a Hole'….
Thursday September 15th: Pondering on textspeak and what the English language will look like in another century. Language is something that has no life, yet is so alive and forever changing. There is little planned dialogue in 'Toad in a Hole'.
Friday September 16th: Today begins three days of painting in preparation to install our modest library shelves and being able to unpack our books after many months in storage. I cannot imagine ever owning an electronic book reader, I just love the feel of the real thing.
Monday September 19th: I wonder if anyone has ever died trying to extract themselves from a wetsuit? Not the easiest thing to get off and I am so glad I never became a Navy Diver!
Tuesday September 20th: An operational pause to writing while my daughter visits.
Wednesday September 21st: At Turf Moor yesterday, Andre Amougou scored a wonderful overhead goal for Burnley. One of the very few downsides to living in our Tasmanian paradise is that Turf Moor is 8000+ miles away.
Thursday September 22nd: Visited the Tasmanian Devil sanctuary and witnessed a tourist trying to stroke a devil and at feeding time! Surely this man will one day be a posthumous recipient of a Darwin award.
Friday September 23rd: Some people are more interested in my writing than others. This Sulphur Crested Cockatoo is pretty curious!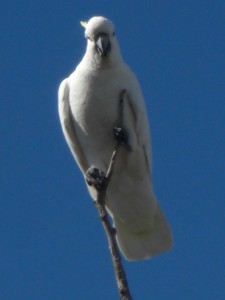 Friday 30th September: I have spent most of the last week on a mini-break showing my daughter the North of Tasmania and looking at some of the places we nearly chose to live. Fortunately our ultimate choice has now been legitimised so I can breath easy. They say insanity is hereditary – you get it from your children! The one stand out from this first month as a writer is how little time I have to fit in all I want to do and how I will need to manage time more effectively and become very disciplined. From being a "Jack of all trades" and master on none in the Navy I now must master just one trade….