STOP PRESS Can you identify the river monster in the video link on the 26th February  Diary page? Enjoy!
TOM FREDERICK©
Welcome. Tom Frederick is my pen name and is in memory of my maternal grandfather. After almost 40 years serving in two Navies, I 'retired' in July 2011 to pursue a lifelong ambition and interest in writing. I have eight projects in various stages of construction/completion. They vary in genre and will hopefully have wide appeal. The books appear below in the order they are intended to be completed and published.
1 .         TOAD IN A HOLE© is a children's story which should also appeal to the adults who may have to read it at bedtime. I have many happy memories of reading Roald Dahl's classics to my children and 'Toad In A Hole' combines a royal love story, outer space and two alien species – one famous and one infamous in my adopted Australia: Kangaroos and Cane Toads. There follows a brief extract from the introduction – will it deter unimaginative parents from buying their offspring this book?!
You can, if you are careful, demonstrate this with two eggs. The planets are both actually egg shaped and a similar size, so do not choose an ostrich egg and a quail's egg because that would be very unrealistic. If you use crocodile eggs make sure nothing is about to come snapping out from the inside. Is it important to use eggs for this demonstration, I hear the grown-ups who are reading the book thinking? Well, planet earth is a bit pear shaped, did you know that? Of course for our purposes as there is no other pear shaped planet that rolls up against us in our solar system and our sun is not blue, pears do not help here. Oranges are the wrong shape and so, unremarkably are bananas. Therefore, in our world, only eggs are sufficiently realistic to do the trick.
2.         Definitely not a children's book, the novel AUTOMATIC ADVERSARY© has been more than a quarter of a century in gestation. It is a novel set around the development of HMS ADVERSARY, the world's first fully automated unmanned warship. Its sub-plot is a tale of treachery and betrayal between identical twin brothers tragically separated soon after their birth. Their careers in the British and United States Navies occasionally cross as ADVERSARY develops from drawing board in the early 1980s to reality at the turn of the century and the climax is set during the second Gulf War. A brief extract from close to the novel's end:
I remembered the prayer of St Francis and as I sat there, the blood from my own wounds staining the deck with his, I prayed out loud with only the Lord to hear. I remember hearing myself say the ending "it is in pardoning that one is pardoned; it is in dying that one finds eternal life" and then fading, I remembered nothing more but I wondered why, as his twin, I had never sensed his lifetime of betrayal.
3.         JONATHAN THE FLYING PIG© will be a second children's story and tells the story of young Jonathan, a pig who discovers he has wings while being bullied in the schoolyard. Set during the First World War, The Royal Flying Corps are at first bemused and then delighted to encounter Jonathan, who will confound the Red Baron while not forgetting to hand in his homework on time. Jonathan has an older sister Georgina, a fat pig who expends all her energy on tormenting her brother and his best mate is 'Fearless' Monty Fox, son of 'Freddie the Flea'. Freddie can usually be found scratching impossible to reach parts of his anatomy with his back claws.
4. I am a graduate in Political Theory and Institutions and twice a failed self-nominee for Tony Bliar's new House of Lords (2001 and 2002). THE HISTORY OF THE POLITICAL PARTY THAT NEVER WAS© tells the story of the Independent Armed Forces Veterans Party 2010-2045 (IAFVP). The party is born out of frustration in the socially engineered multicultural and bankrupt society following Bliar's Gulf War and the final indignity of Brown's financial crisis. It will not appeal to readers of the UK Guardian. It relates the struggles of a group of veterans who overcome an entrenched and Europhile cross-party political elite to create a party capable of renewing the pride of a nation during its 35 year existence.
5.         The THIRD IRON DUKE'S FIRST COMMISSION is a non-fiction description of the present day HMS IRON DUKE and her first days leading out of the shipbuilder's yard in Glasgow through her sea trials and into  operational service in 1994. It employs the Ship's Daily Orders as an unimpeachable source of the "Irn Duck"'s early life.
6.         My as yet untitled autobiography will describe my life's path from Lancashire to Tasmania. While it will be unsparingly honest it will benefit both from my poor memory and no doubt my wife's excellent one!
7.         Inspired by Samuel Butler's Erewhon (1872) and William Morris' News from Nowhere (1890), NOWHERE NEW© is set in the year 2099 and looks at life through the eyes of Alexander Louis living in a utopian island state detached but not immune from the imperfect world around it.
8.         IT'S A FROG's LIFE© tells the pictorial history of some of the more interesting of the charmed frogs lucky enough to share the Frederick home, including Arnie, who almost underwent a name change after his namesake the Gubernator's marital infidelities were revealed. Other old stalwarts like Bryan Robson and Dingley have been joined over the years and from around the world by the Birthday Boy from Penang, Malaysia and Montezuma from Breckenridge, Colorado.
Chris Watson writing as Tom Frederick asserts his intellectual property rights, ownership and copyright on all synopses, extracted prose and completed works described on this website and the pen name 'Tom Frederick'. Last updated October 2014.
THE AUTHOR
Chris was lucky enough to be born on the 'right side' of the Pennine hills in Northern England and only six miles from the finest Association Football club in the world, Burnley FC.  He was educated at grammar schools in Lancaster and Skipton before graduating from the Britannia Royal Naval College and later reading Political Theory and Institutions at the University of Liverpool. Before he joined the Navy at 18 he had been working part time for his uncle since the age of 10, owned his own Sunday paper round in four North Yorkshire villages and enjoyed working in summer holidays on a local farm.  Rugby at school among illustrious England Under 19 internationals and County players (not Chris!) was followed by soccer at Dartmouth including an undistinguished tour of West Germany. During his naval career Chris was able to visit scores of countries and live with his family in England, Scotland, the USSR, Texas, Gibraltar, Malaysia, Japan and last but by no means least, Australia.
All in all the family moved homes 19 times in 31 years.  Highlights included time as a diplomat in Warsaw and Moscow (where he was expelled from the Soviet Union by President Gorbachev) visiting the Arctic,  Antarctica and the Falkland Islands, bringing two warships out of build, emigration to Australia and serving at sea in ships of the Norwegian, Brazilian and United States Navies.  Chris was awarded the United States Meritorious Service Medal in 2002 and has Australian Active Service and Campaign medals.
On several occasions he resisted the temptation to leave the Navy and enter the UK political scene but his one genuine regret is that he didn't play professional football for Burnley!  He is delighted he is now able to fulfil his other lasting ambition to write full time. In 2011 Chris joined the Australian Society of Authors.
An accomplished public speaker Chris was at ease briefing heads of Services, Ministers and senior government officials as well as much broader audiences. His unique experiences have embraced life as a naval officer and diplomat as well as jobs in the maritime industries of shipbuilding and fisheries. He has worked for three governments (Australian, American and British) in inter-agency environments and his exploits have provided him with a wealth of material to draw on when engaged as a motivational speaker.
Chris can be contacted at tomfrederickbooks@gmail.com
Published Articles:
"FLYING THE ASEAN FLAG" 2014 in   'Headmark' the journal of the Australian Naval Institute. http://navalinstitute.com.au/test-2/
ABSTRACT
This paper suggests a way in which the ASEAN members' naval forces can be employed to further promote the goal of achieving an ASEAN Community in the first part of a century which has the potential for turmoil, political, economic and military, among the Asia-Pacific nations. The impetus for tangible naval cooperation should perhaps have been the coastal devastation wrought on several member states by the 2004 tsunami. Unfortunately it appears even that unexpected force of nature and the subsequent embarrassing dependency on outsiders for assistance was insufficient to persuade ASEAN members that there exists a need for real naval interoperability.
http://www.army.gov.au/lwsc/Docs/AAJ_IV_1.pdf contains "Joint Information Operations: The Road Ahead"
http://www.navy.gov.au/w/images/PIAMA21.pdf contains the Peter Mitchell Open Prize winning essay critiquing the USA's Chief of Naval Operations' proposal for a "thousand ship navy".
The Political game of Entrepreneurs.
When at Liverpool University the author invented the political leadership game of Entrepreneurs. This game and its rules can be found in Professor Michael Laver's book "Playing Politics" published by Penguin in 1979. It has also featured in the Daily Telegraph before a UK general election.
"Do You Think Enough About Intelligence?" An article about naval intelligence direction. Published in the Royal Malaysia Navy's Cakap Taktik Maritim Magazine, Edition 33.
"Identification + Observation = Interpretation" An article about acting on reality, not perceptions of reality. Published in the Royal Malaysia Navy's Cakap Taktik Maritim Magazine, Edition 40.
And briefly in 'The Longside … End of an Era' (Chapter 26) published by Burnley Football Club.
Unpublished work which may be requested from the author:
"EXPLOITING LANGUAGE FOR MILITARY GAIN" February 2014
ABSTRACT
Despite its title this paper is not concerned with Psychological Operations, deception or even prescriptive advice on how to write a better set of military orders. It is about how best to choose which language to use when peace turns to crisis and ultimately war. It is written in the medium of English but the use of the English Language in future warfare may not always be the best choice for those now forced to use it on operations and exercises in peacetime.
"A NATIONAL EFFECTS BASED APPROACH (NEBA): NEBA DEVELOPMENT – BY ACCIDENT OR DESIGN"
ABSTRACT
Written in late 2007, this paper contributed to the debate the Australian Chief of Defence Force encouraged in his "Future Joint Operating Concept – 'Joint Operations for the 21st Century' (FJOC) published in May 2007. It does not debate the premise of Effects Based Operations (EBO) but looks beyond EBO, to the strategic direction which will be required to achieve a National Effects-Based Approach (NEBA). A NEBA is described as the foundation of the nation's security and "the basis of defence operations for the foreseeable future".
Since 2003 the Australian Defence Force has encouraged inter-agency Shaping & Influencing planning. Supported by doctrinal Military Information Operations this has aimed to influence the perceptions and actions of selected target audiences (whether individuals, groups or populations) to achieve effects that the Government of Australia desired. In parallel, and from the parallel dimension of transformational concept development has emerged the EBO concept, the means through which a NEBA is supported by the military. The planning and execution of EBO will, in theory, support the selection and employment of particular aspects of the elements of national power (Diplomatic/Political, Information, Military, Economic, Societal and Technology) as the most appropriate tools to achieve specific government outcomes.
This paper considered the requirement for developing a National Effects Based Approach (NEBA) or 'joined-up' government to support national problem solving and suggests how the concept might become reality. It describes the issues surrounding a NEBA by considering the who (departments); what (NEBA); why (the threat); when (time constraints) and the how (the organisation/solution). In the conclusion it discusses the why of conducting a NEBA to solve a national issue or selected issues facing government in the 21st century and makes several recommendations. It was updated in 2013 and retitled "OPERATION SOVEREIGN BORDERS – A NATIONAL EFFECTS BASED APPROACH OPPORTUNITY"
A 2009 Essay regarding THE IMPACT OF THE GLOBAL FINANCIAL CRISIS ON THE FUTURE OF NAVIES
"If money is the bond that binds me to human life, that binds society to me and me to nature and men, is not money the bond of all bonds? Can it not tie and untie all bonds? It is the galvano-chemical power of society" (Karl Marx)
The first line of defence for many nations is the Navy. Sea lines of communication are vital to safeguard the lifeblood of trade. If money can indeed 'tie and untie all bonds', then for island and archipelagic nations and those constrained by their geography to use the sea, there are grave security implications associated with any global economic fragility.  This essay discussed how the global financial crisis (GFC) might affect the world's navies together with their ability to employ the Principles of War as an essential requirement to execute strategy in a maritime environment. Its lessons remain prescient.
October 2013 Book Review
Clarke Carlisle 'A Footballer's Life'
I had initially hesitated to buy Clarke Carlisle's autobiography when I read of the controversy in it about the different perspectives of solving the approaches to anti-racism in football. Compounding this was my respect for Dave Thomas's views on the unnecessary bad language which had been quoted in publicity surrounding publication. DT's Jimmy Adamson's book arrived from Amazon a day before CC's and dutifully I began the former but when CC's offering arrived I became the man who temporarily turned down the man who wrote about the man  who said 'no' to England.
Perhaps CC's reputation as football's most articulate player has swayed me but I really do believe he has written this himself. His style is endearing and self-aware. It is an easy read for those who still dream of glory and those who never came near it.   It is an intensely honest and personal analysis of a young man who has faced and been defeated by his demons and got up again (and again) to have another go to face them down.  It lays bare the mentality of those testosterone charged males who, because of their talents in a team sport, can delay growing up for a decade or so and remain in a mental time-warp of mid to late teens immaturity.  CC is a man who realises how lucky he is and has been and a man who daily lives with a psychological fragility which I suspect football's then management of immature, impressionable and suddenly wealthy  youngsters should take much responsibility for.
In some respects it is like reading a second volume of his professional life as it describes in detail the last couple of seasons of a career in decline illustrating his journeyman and often precarious life as a lower league pro-footballer with occasional flashbacks into earlier seasons and what might have been.
You have to hope Danny Ings will have more luck after his England U-21 experience than did Clarke Carlisle. He also illuminates the relationship between managers and their players and the differences between some of their leadership and training techniques. I don't know how successful he will be as a long term professional pundit but I am left wondering if he might not have taken an easy option by not considering coaching and ultimately football management. I recommend it. There isn't much about BFC but as I said it is an easy read, it is thought provoking and the relatively rare bad language is heartfelt or contextual as is the often cringe-making immaturity of some professional sportsmen.
————————————-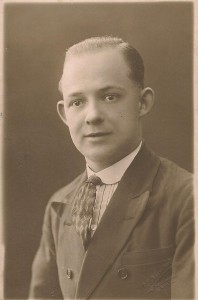 The Original 'Tom Frederick'